Teaching
"Thanks for getting me over my 22-year writer's block!"
Writing from Life student, Oct. 2023
Workshops and presentations
I present a variety of writing-related workshops and classes to adults in formal and writing group settings, including: Writing From Life, Point of View, Travel Writing, StoryCraft, Character and Dialogue, A Writer's Toolkit, and Marketing Yourself and Your Work.
In my presentations for elementary school children, 'To Begin at the Beginning', I talk about the origins and purpose of storytelling, describe my beginnings as a writer, share how I generate ideas for fiction and non fiction, and read from my work. I conduct creative writing workshops for high school and post-secondary students as well as talking about my work as a writer.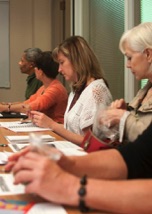 Prior and upcoming activities
Pic. Photos by Pharos
I have presented in the past for:
Canadian Children Book Week Tour (2017, 2022),
Surrey International Writer's Conference
Vancouver Writers' Festival
New Westminster Literacy Society
FVRL Reading Link Challenge
SFU Southbank program
Vancouver Island University Elder College
Dover Secondary School
and others. 
Contact me to enquire about a presentation or workshop for your group or class.
COMING SOON: Check back for links to free handouts on various topics.